Jaguar E-Type Coupe - Road & Track 1:18 Scale
The Jaguar E-Type, one of the most iconic sports cars of all time, is known first and foremost for its beauty. Enzo Ferrari was quoted as calling it "the most beautiful car ever made" and it still consistently scores highly in any most beautiful cars lists around the world. But it's much more than just a pretty face. When it debuted at the Geneva Auto Show in 1961, it was one of the most technologically sophisticated cars that had ever existed. Its flowing silhouette, developed by brilliant aerodynamicist Malcom Sayer, used mathematical formulas to arrive at a shape that'd slice efficiently through the air. It was truly at the cutting edge of its day. Underneath the shapely bodywork was a fully independent rear suspension, rare for its day, and a 3.8 litre straight-six engine, which had proven itself powering D-Type race cars to victories at the gruelling 24 Hours of Le Mans in 1955, 1956, and 1957. The result was a very nimble yet compliant car, effortlessly capable of triple-digit speeds. A larger, 4.2-liter straight-six replaced the trusty 3.8 in 1964. A 5.3-liter V12 was added in 1971.
The hi-tech suspension, race-bred engine and advanced chassis lent themselves to being an excellent race car, and race they did. On April 3, 1961, Sir Graham Hill beat the likes of rival Brits Aston Martin and the fabled Italians of Ferrari on the undulating Oulton Park circuit. Soon, E-types were battling on tracks all over Europe and North America and would continue to do so well into the 1970s.
The E-Type's form factor would undergo minor changes throughout its 14-year lifespan, by way of three different "series." Coupes, roadsters, and two-plus-two layouts all riffed the basic E-Type formula in some way, but never strayed too far from that breath-taking silhouette. In all, over 72,000 E-Types were produced until production ceased in early 1975.
The E-Type remains the most iconic car in the Jaguar's storied history and forever will be one of the greats in the pantheon of the most important cars the world has ever seen.
This 1:18 perfect scale Amalgam model of the Jaguar E-type is supplied in a luxury black box with a protective outer carrying sleeve. Each model is mounted on a polished black acrylic base protected by a clear acrylic dust cover. The base holds a booklet containing the certificate of authenticity along with information and collateral material about the car. The model title and original branding is displayed on a polished stainless steel plaque mounted at the front end of the base.

Please note that due to the nature of this product, free shipping does not apply. For a shipping quotation, please contact us.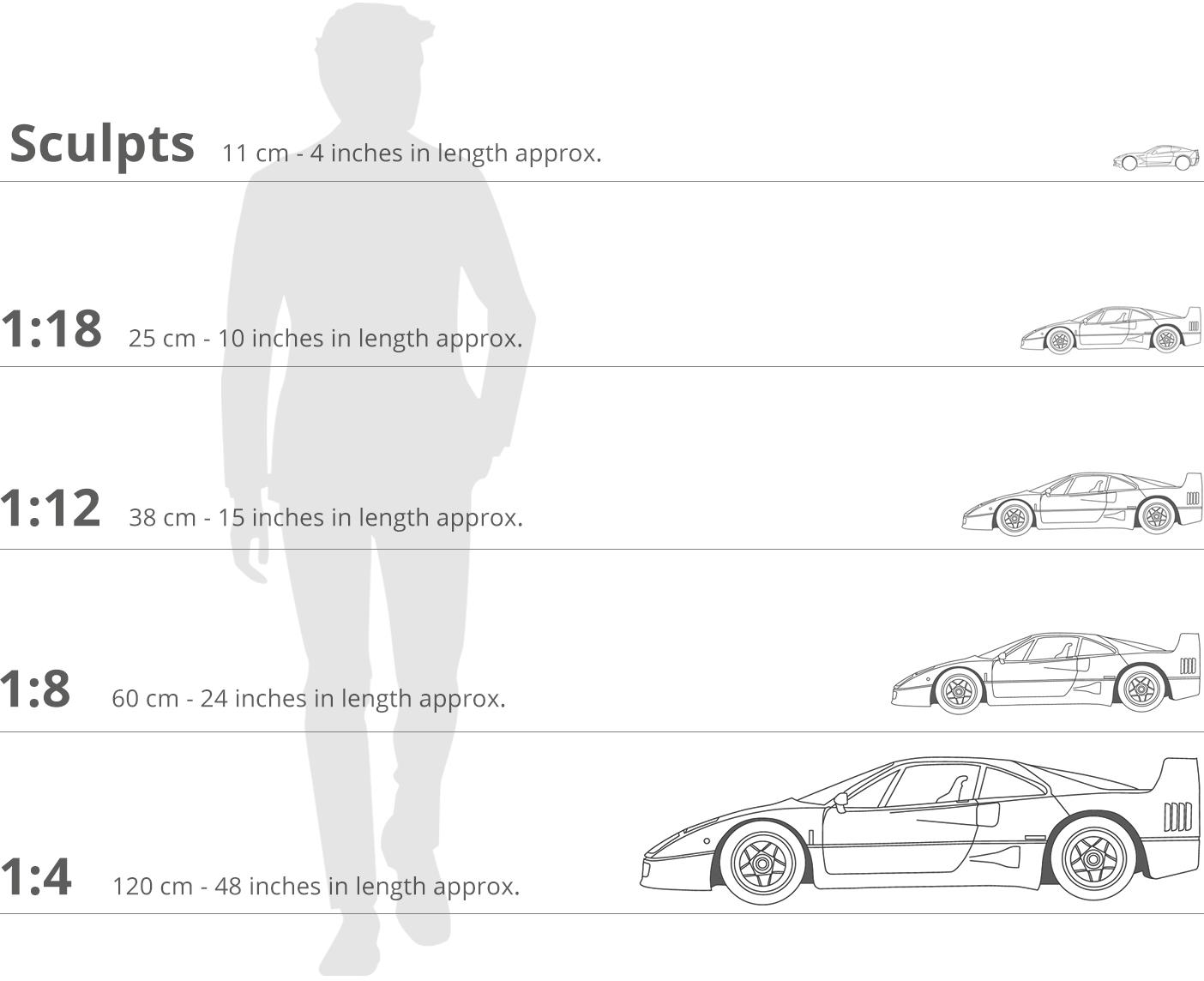 Amalgam Collection create models at a range of scales. For those of you unfamiliar with the way the system works, these scales represent the ratio between the size of a model and its full size counterpart. Here are the scales they make with the average lengths of the model alongside. Put simply, the bigger the number to the right of the colon, the smaller the model car:
Sculpts…...11 cms (4 inches) long
1:18…...25 cms (10 inches) long
1:12…...38 cms (15 inches) long
1:8….....60 cms (24 inches) long
1:5….....92 cms (36 inches) long
1:4. ….120 cms (48 inches) long
Amalgam's primary focus is on collections at 1:18 and 1:8 scales. It's at those scales they create the majority of the model range, with just a few examples at the other scales. Bespoke models are only available at the bigger 1:8 scale and they tend to build one-offs at the even bigger 1:5 or 1:4.
All orders are shipped via DHL Express or DPD. Next day delivery can also be selected upon checkout.
Made to Order products are dispatched within 28 days of purchase.
Pre-Order products are expected to be dispatched within 3-4 weeks from time of purchase.
For more information on shipping, returns and exchanges please click here.