Ferrari 250 GT Lusso 1962 - 1:8 Scale
The much-celebrated 250 series by Ferrari is arguably the most iconic family of cars ever known and the Lusso is considered by many as its most attractive. Debuting at the Paris Salon in October 1962, with styling by Pininfarina, the Lusso (or 'luxury') was that rare machine capable of satisfying a seemingly impossible spectrum of needs; the ability to perform over long journeys at high speeds whilst still providing the absolute in comfort for both driver and passenger. Exquisitely proportioned, it fused a low-hung nose with hewn Kamm tail and its comforts included a fully trimmed interior and a softer suspension than its track-dwelling siblings. Hung on a short wheelbase chassis, the Lusso was powered by a light and compact three litre V12 engine combing three twin-choke Weber carburettors. With a top speed of 150mph (240km/h) and a handy 0-100mph (0-160km/h) acceleration time of 19.5 seconds, the Lusso was the thrilling finale of the 250 series; an unrepeatable family of road-going machinery.
This fine 1:8 scale model of the Ferrari 250GT Lusso has been handcrafted and finished in our workshops with the co-operation and assistance of Ferrari regarding original finishes, materials, archive imagery and drawings. The use of supremely accurate digital scanning of the original car has allowed us to perfectly recreate every detail at scale. Furthermore, it has undergone detailed scrutiny by both engineering and design teams to ensure complete accuracy of representation.
Please note that due to the nature of this product, free shipping does not apply. For a shipping quotation, please contact us.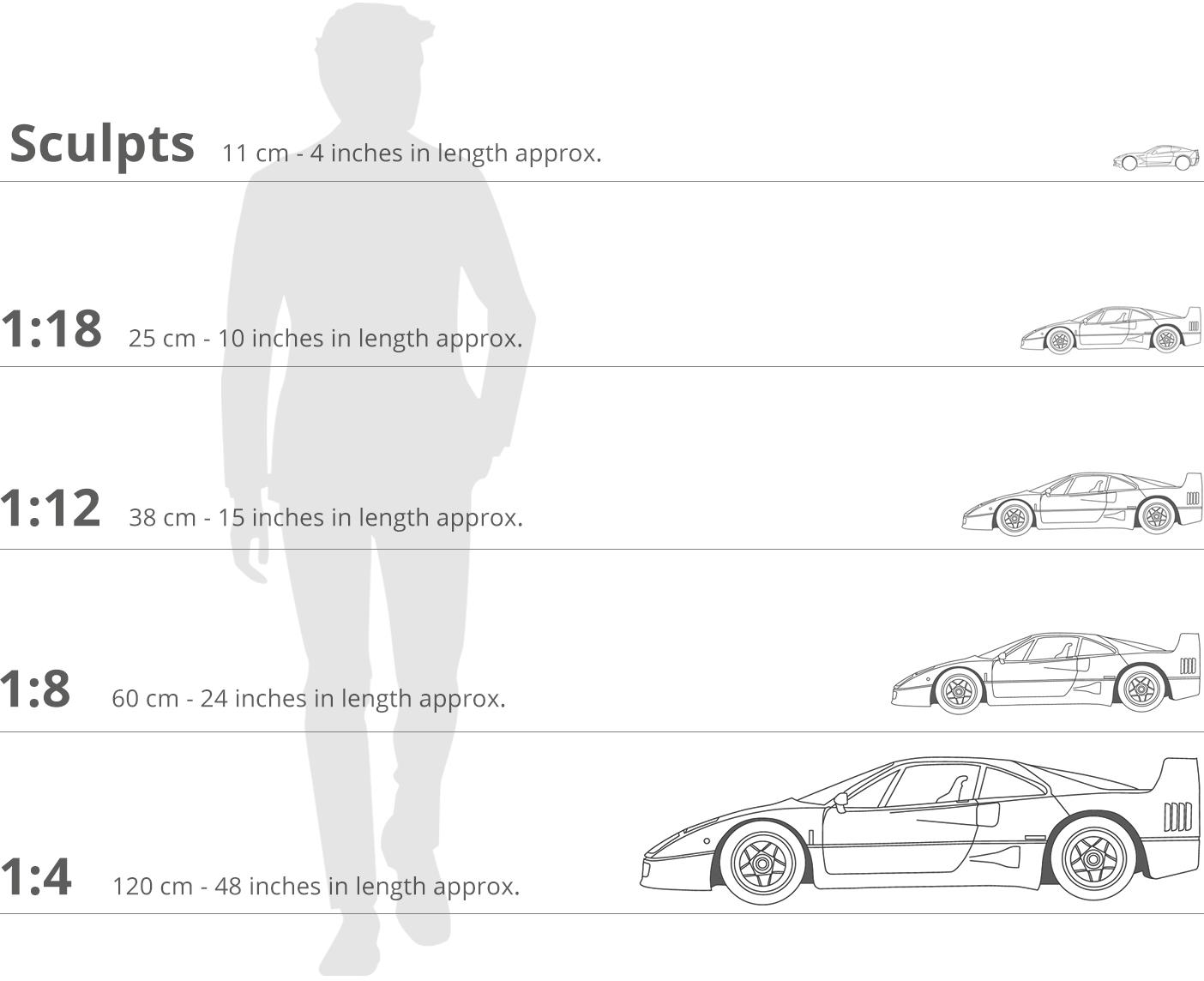 Amalgam Collection create models at a range of scales. For those of you unfamiliar with the way the system works, these scales represent the ratio between the size of a model and its full size counterpart. Here are the scales they make with the average lengths of the model alongside. Put simply, the bigger the number to the right of the colon, the smaller the model car:
Sculpts…...11 cms (4 inches) long
1:18…...25 cms (10 inches) long
1:12…...38 cms (15 inches) long
1:8….....60 cms (24 inches) long
1:5….....92 cms (36 inches) long
1:4. ….120 cms (48 inches) long
Amalgam's primary focus is on collections at 1:18 and 1:8 scales. It's at those scales they create the majority of the model range, with just a few examples at the other scales. Bespoke models are only available at the bigger 1:8 scale and they tend to build one-offs at the even bigger 1:5 or 1:4.